BOB 3 AND BOB 4: THE ULTRA-COMPACT IP68 AND IP69K JUNCTION BOXES
One of the most requested accessories in the electrical world is the junction box, that, as we all know, is essential for the derivation and connection of electrical cables in a system, be it civil or industrial.
The junction boxes are available on the market in various types and sizes, which are suitable to the different application needs and to the number of cables that they will contain and distribute.
In case of applications where an ultra-small performing solution is required, Bob 3 and 4 are the best choice that can be made.
What is it about?
Bob 3 and 4 are the revolutionary junction boxes prefilled in gel, with IP68 and IP69K degree of protection, which guarantees a total protection from solid bodies, water, humidity and high pressure and high temperature water jets. The numbers accompanying the name (3 and 4) represent the number of cables that can be connected inside the box.

The boxes, available in grey and black, are supplied complete with terminal block and are suitable for every type of installation, even the most extreme. Their self-extinguishing polypropylene enclosure, resistant to heat and fire (glow test at 960°) makes them resistant from a mechanical and flammability point of view.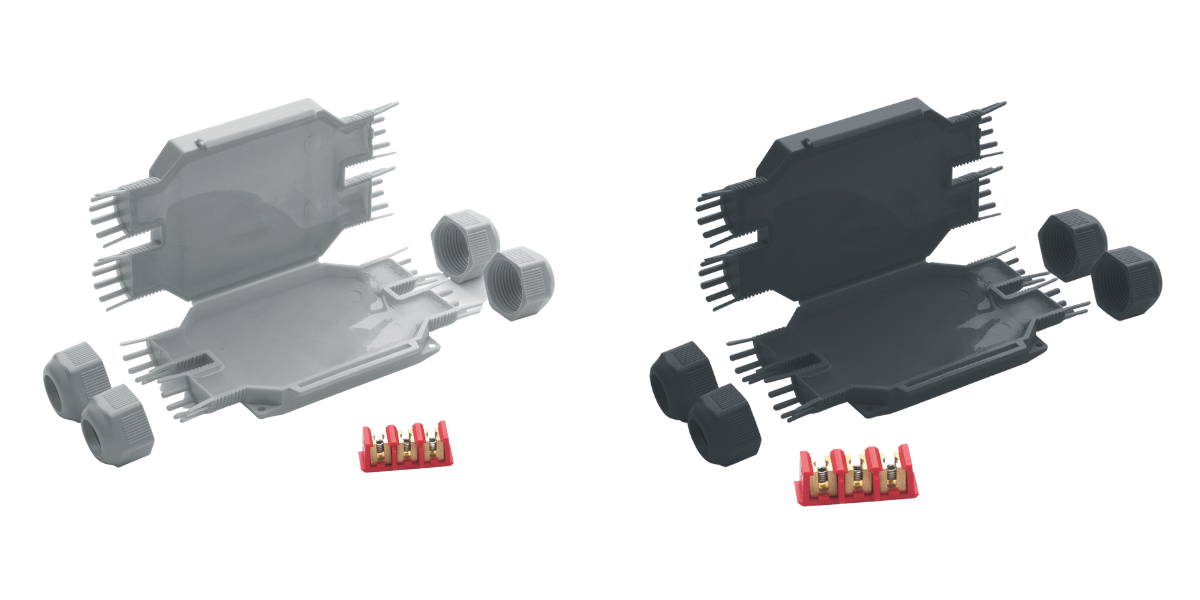 They are compact, space-saving, prefilled with an electrical insulating and sealing gel, halogen free, not classified as dangerous, naturally resistant to UV rays, molds and aging, extremely conformable and soft, quality that makes them always performing, re-enterable and completely protected from water even after long periods of operation.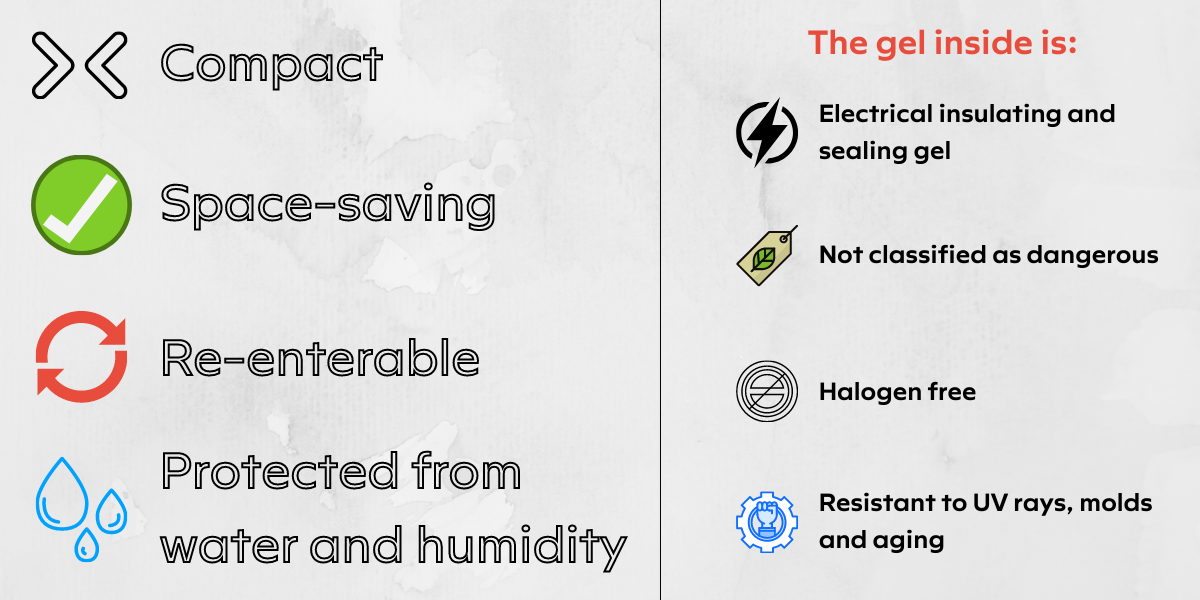 Bob 3 and 4 have shapes and sizes with minimal aesthetic impact that are well suited to any context and the cable glands, which are part of the kit, allow to reach IP68 and IP69K degree of protection, essential in the case of extreme installation circumstances.
Bob 3 and 4 are ready to use, UV and aging resistant, characteristics that make them ideal for outdoor installations, in particular for use in traps and for connection in lighting systems of gardens, steps and stairways, pedestrian crossings etc.

They can be easily fixed on the wall thanks to the holes on the base.

Their correct functioning in prolonged immersions is also ensured if an injury to the cable outer sheath, due to damage caused by external agents such as animals or mechanical means, allows the water to penetrate inside the accessory.

Compared to other similar junction systems made up of junction box and resin filler or insulating gel, with Bob 3 and 4 there is no need to mix, cast or pour anything; this translates into speed of installation and no waiting time.
A little solution for great installations.